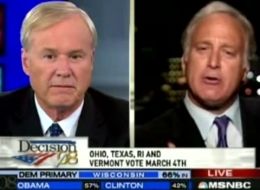 During MSNBC's coverage of Tuesday's primaries, Hardball anchor Chris Matthews politically decapitated Texas State Senator Kirk Watson, an Obama surrogate. Watson, a state senator, attorney and former Mayor of Austin was on MSNBC to represent the Obama campaign opposite of Congresswoman Cynthia Tubbs-Jones of Ohio. After Tubbs-Jones gave an extended salvo, Senator Watson rebutted and unassumingly waltzed into a lion's den.
Chris Matthews launched a preempted strike asking Watson, "What's the unique selling point of Barack Obama to Texans?" Watson responded by making remarks about Obama's uncanny ability to coalition build, inspire and restore a sense of hope. Matthews then shot back: "You are a big Barack supporter aren't you senator?"
"Yes, I am," Watson replied.
"Name some of his legislative accomplishments," Matthews retorted aggressively.
Clearly caught off guard and rattled, Watson gave no response.
"Sir, you have to give me his legislative accomplishments," Matthews said, continuing his onslaught. "You support him for president. You are on national television. Name his legislative accomplishments, sir. Can you name anything he has accomplished, SIR?"
Watson stammered and paused.
"List Barack Obama's accomplishments as a senator now. NOW." Mathews commanded.
Watson was clearly overwhelmed, embarrassed, out gunned and speechless.
The camera returned to Matthews and
Countdown'
s Keith Olbermann, who appeared stunned by Matthews' attack asked Chris to, "Name one accomplishment the Senate has made this year?"
Matthews justified his inquisition by saying, "He is here to defend Barack Obama and he had nothing to say. That's a problem," . "Why do you think they call it
Hardball
?"
"But this isn't Hardball. We are doing the election results," Olbermann cleverly responded.
Keith was wrong, this is hardball...future surrogates BEWARE!
See it for yourself here:
http://www.huffingtonpost.com/2008/02/19/chris-matthews-humiliates_n_87493.html
See a mixed martial arts re-enactment:
Or a Sith Lord re-enactment:
"Talent alone won't make you a success. Neither will being in the right place at the right time, unless you are ready. The most important question is: 'Are your ready?
"
- Johnny Carson